The spectacular festival
of light and colour,
percussion and elephants
pooram of poorams'
Thrissur Pooram - considered to be the mother of all poorams, is a cultural highlight par excellence, celebrated in the Malayalam month Medam (April/May).
The two century old festival of spectacular procession of caparisoned elephants and enthralling percussion performances in a never ending succession is an 36 hours marathon event of incredible beauty, a feast for the eye and the ear, unfolding between 6 am to 12 noon the other day.
Different from the usual temple festival, Thrissur Pooram is participated and conducted by people across all barriers of religion and caste.
This is explained with the genesis of the festival.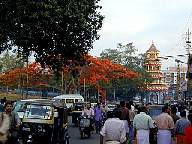 Historical background
Before the advent of Thrissur Pooram, the largest temple festival during summer in central Kerala was the one-day festival held at Aarattupuzha, 12 km south of the town. Temples in and around Thrissur were regular participants of this religious exercise until they were once denied entry by the responsible chief of the Peruvanam area of Cherpu, known for its Namboodiri supremacy.
As an act of reprisal and also in a bid to assuage their wounded feelings, Prince Rama Varma (1751-1805), also known as Sakthan Thampuran and enthroned as the ruler of the erstwhile Cochin state invited all these temples to bring their deities to Thrissur where they could pay obeisance to Lord (Sri) Vakunnathan, the deity of the Vadakunnathan temple. Further he directed the main temples of Thrissur, Thruvambadi and Pamamekkavu, to extend all help and support to these temples. It is this historical background that determines the course of the Pooram program and it is specifically the ruler's antipathy to the brahmin aristocracy to open Thrissur pooram for the common man.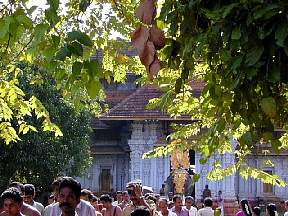 Religious background:
Adhering to the medieval Peruvanam tradition, the festival is confined to the temples of Devi (goddess) and Sastha (divine combination of Shiva and Vishnu).
Ten deities from the neighboring temples pay obeisance to the presiding deiety of Thrissur and only spectator of the Pooram events, Lord Siva at the Sree Vadakkunnathan temple, situated in the heart of the town.
Principle participants are Paramekkavu and Tiruvambadi, close to the Vadakunnathan temple.
Also participating and known as 'Cherupooram' are the suburban temples at Kanimangalam, Karamukku, Choorakkattukara, Laloor, Ayyanthole, Neithilakkavu and Chembukkavu, Panamukkampilly, altogether 8 deities.
The sprawling Thekkinkadi maidan, en circling the Vadakumnathan temple, is the main venue of the festival.
Share this