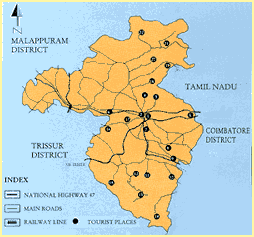 Palakkad is the land of Palmyras and Paddy fields. It is the chief granary of Kerala, often called the Gateway of Kerala. Palakkad lies at the foot of the gigantic Western ghats on the border of Kerala. This district with mountains, forests and fertile valleys, rivers and mountains streams are rich in flora and fauna. Palakkad is known for its historical background and the remnants of Tippu Sulthan's Fort are still maintained. The famous tourist spot of Malampuzha is situated just 8km away from Palakkad Town.
Its a place of tourist importance. Some of the picnic spots are Tippu's Fort , Malampuzha - Garden, Snake park, Aquarium, Rope way, Rock garden and Fantasy park , Loknayak J.P.Smrithi Vanam and Deer Park, Mayilladumpara - Cholanoor Peacock Sanctury, Kanhirapuzha dam,
Mangalam Dam, Pothundy Dam, Seetharkundu water falls near Nelliyampathy, Meenkara dam, Parambikulam wild life sanctuary and boating, Chulliar dam, Killikurrussi Mangalam, Meenvallam, Siruvani, Silent Valley National Park and Attappady ghats.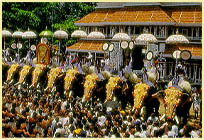 Palakkad is also famous for its temples and celebrations.
The Famous temples of Palakkad are

Vadakkanthara Tirupuraikkal Bhagavathy Temple, Manappullikkavu Bhagavathy Temple, Nurani Saneeswaran Temple, the ancient Kalpathy Siva Temple, Kallekulangara Emoor Bhagavathy Temple, Kodumbu Subrahmanya Temple, Chittur Bhagavathy Temple, Mangote Bhagavathy Temple, the famous Jain Temple near Vadakkanthara is known as "Chandranatha Temple

" etc. There are many Mosques and Churches also.


Chittur Kongan Pada, Nemmara-Vallengy Vela, Vadakkanthara Vela (once in 3 years), Manappullikkavu Vela, Kallekulangara Elephant race, Kalpathy Theru festival, Kavassery Pooram, Kannambra Vela, Chinakkathur Pooram, Puthunagaram Theruvath Palli Nercha, Pattambi Nercha

are some of the famous celebrations.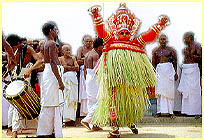 Kalapoottu Malsaram, Kanniar Kali, Porattu Kali

are some of the artistic culture of Palakkad. Chembai Bhagavather - Kottayi Agraharam, Nurani Agraharam, Kalpathy agraharam, Nellissery gramam are some of the age old brahmin agraharams. There are many ancient aristocratic Nair families and Namboodiri Illams also. Being on the border of Tamilnadu, there is a mingling of Tamil culture also.
Share this